Oops, sorry for the late post this week! To make up for it, hopefully this card is quite interesting. Anyway, without further ado, here it is: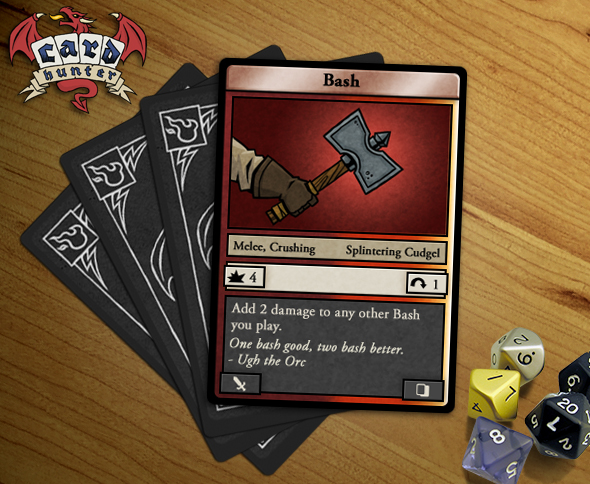 OK, so Bash – sounds pretty simple, right? Well, there are a few complexities to this card that we should discuss.
The first thing to note is that this card has two text boxes and two sets of icons on it. The top set are the regular icons you see on any old attack card. Bash does 4 damage and has a range of 1 – not bad for a melee attack, but not fantastic by any measure.
What makes this card shine is that it also has a grey reaction rule box. The little sword icon in the lower left indicates that this is an Attack Boost reaction and the card symbol in the lower right indicates that you get to keep (put back in your hand) this card after it triggers. The rule text tells you more about what's going on: "Add two damage to any other Bash you play".
Wow – that's not bad! So, if you have two Bash cards in your hand and play the first, the second Bash will trigger and boost it's damage to 6. And you get to keep the triggered Bash card, meaning you can save it for next round and hope that you draw more. Or – do you want to play it out now and kill your opponent? Less damage right now or more damage later? A Bash card that sits in your hand for several rounds can end up adding a LOT of damage. On the other hand maybe you need those 4 points of damage right now? Those are the kind of decisions that these cards evoke.
A few more titbits:
You can have multiple cards trigger in reaction to an event. So, if you have three Bash cards in hand and play one the other two will both trigger and boost its damage to 8! Ugh knows what he's talking about.
Playing any Attack card with Bash in the name will trigger this. So yes, Stunning Bash will get a boost too.
Finally, notice how this is a two tone card (the right hand side is a hot red). That's a visual hint to you that the card has two functions – red for a regular attack and hot red for an attack boost. You don't need to know that, but it's a guide that can help you quickly recognise the card's function without reading the text or icons.