So, after a long delay, we should be back to regular diaries that actually update you about the game. This week I'm going to write about what I've been working on since getting into our new Sydney office.
I'm a pretty lazy person in general. Whenever I can, I try to do things with the minimum effort required. This laziness extends to my game playing. In my younger years, I was happy to play games that had complicated and obscure interfaces but these days I like my games to require the minimum possible overhead whilst retaining the maximum possible strategic interest. So, what I've been working on this week is tweaking our battle and card play system to make the game snappier and easier to play without removing any tactical decision making.
When we first implemented the card play system, we put in a basic targeting system where you click on your target to select it. Makes sense, right? And, seems like that's exactly what you need. After several months of playing with this though Farbs decided to try out an auto-targeting system that would pick your targets for you under very specific circumstances. For example, here's a situation where it would trigger: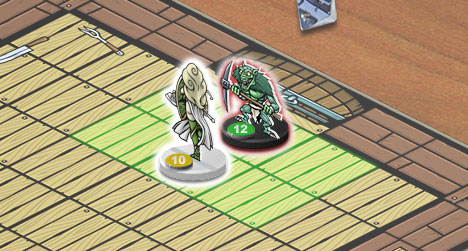 Here Floriel is facing a single Kobold. There's no choice about who to target with a simple melee attack so why ask the player? Using the auto-targeting system you just click once on your attack card to play it and it hits the Kobold automatically. As soon as Farbs put this system in, we all realised that it was excellent and enjoyed not having to click on our single enemy targets.
Of course, there were still plenty of situations where you had to make a choice: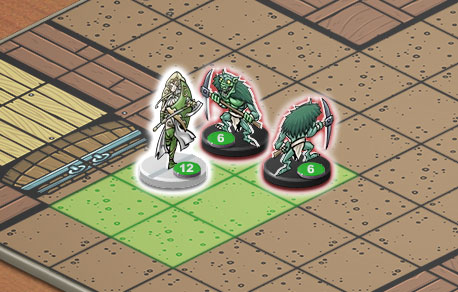 Here, a range one melee attack can hit both Kobolds (diagonals count as one). In case it isn't clear, the green highlight shows the range of a card you are mousing over, the white highlight shows you and the red highlights show your potential targets.
We can't automate this situation any more than we already can but there are others that I thought could use some work. Here's one: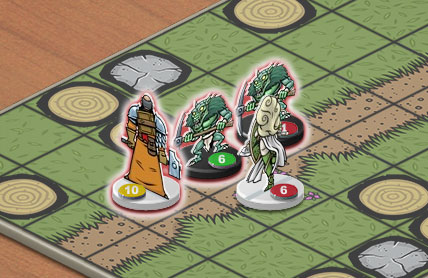 This time Floriel is about to play a Chop card, which targets two characters at once. There are three characters within range: two kobolds and Ordric the priest, an ally. The auto-targeting system wouldn't pick the two Kobolds in this situation. Why?
The first reason is that sometimes you don't actually want to attack all the enemies just because you can. For example, imagine you have another character in your party who has a Trait attached to them which causes them to draw a card whenever they kill an enemy. It's possible that you don't want to kill that Kobold at the top right with your chop because you want to "save" it for someone else to kill.
Another reason is that it is legal to attack allies in Card Hunter and there are sometimes reasons to do so. For example, Ordric  might have this card attached: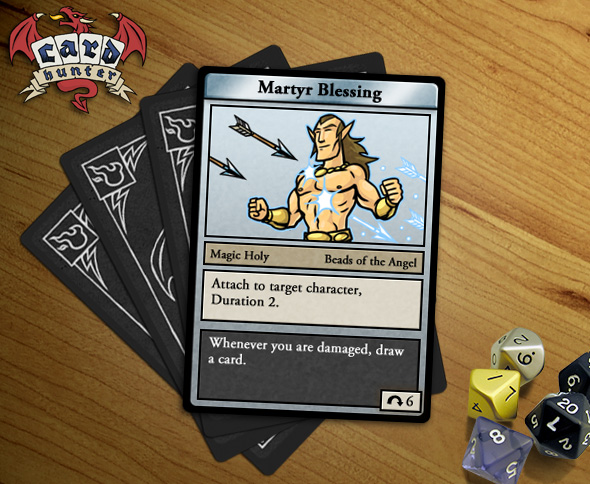 Martyr Blessing is usually something you attach to an ally and hope that the enemy hits them, but sometimes it can actually be to your benefit to target your ally with an attack so that they can draw more cards. That's especially useful when you have a weak attack since the blessing doesn't actually care how MUCH damage is done.
So, back to the auto-targeting. There are good reasons why the game shouldn't just auto-pick the two kobolds as targets in this situation but it's also annoying for the lazy among us that it doesn't do so since 95% of the time that's exactly what you want it to do.
Here's the solution I just implemented: the game WILL auto-pick those kobolds as targets meaning that you can just click your Chop card and have it smash the two enemies without presenting you the choice to avoid one of them. However, if you hold down the control key as you click the card, it will use the manual targeting system, allowing you to finesse your choices. If you're the kind of player who always wants to be asked and wants to think carefully about each and every choice, there's also an option that you can turn on to make manual targeting the default.
Normally I don't like adding interface complexity like this, but in this case I think it's a good trade off because you don't have to know about this system. It's only when you get into high level play, multiplayer especially, that you need to know about this system and learning about the control key is OK for that sort of high level play, I think.
What do you think? Are you as lazy as I am?