Woo! We are now accepting applications for joining the Card Hunter Beta RIGHT HERE.
What do you get by doing this? Once you sign up, you'll be in the queue for the Beta. If you're in the queue, you will be eligible to be picked at some time in some way. Picking may involve pieces of paper with names written on them and a barrel or it may be something slightly less random.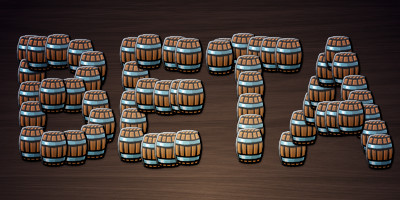 If you sign up, we'll also make sure we send you email updates as we reach significant milestones with the game – like launching it. We also might send you other game information updates along the way. We promise not to spam you or give your contact information away to anyone else.
And, when will Beta start? That's a little more complex to answer.
If you watched or played the PAX demo, you know that our core battle system is in good shape, but before we launch a Beta ,we have some important things that need to be done:
We're going to polish up the first part of the main game campaign. Right now we have all of the Beta adventures completed but we need to balance and polish them. There's no point having a bunch of you test the game and tell us that we need to fix or tune stuff that we already knew we needed to fix or tune.
We have to do some work on multi-player, including spicing up the lobby and improving our match-making.
We have to put in a system where we can actually sell some stuff and make money out of the game.
We're going to test our ability to handle load. If we invite a hundred Beta testers in and our server just falls over, we won't be getting much use out of you. Currently we're in an analysis phase where we're writing a bunch of bots to stress test the server and see if we need to do any additional work on it.
We're adding some systems to add replay value to our adventures – the quest system that we've been talking about a bit on the forums.
How long is all this stuff going to take? Somewhere between "not long" and "a while"… I think you can see why, because some of those tasks require us to investigate what we need to do, as well as actually doing it. If you've been following us for a while, you know that we don't like to give dates that we can't hit. So we won't.
Please post any other questions you have about Beta here and I'll try to answer them!