In the last few weeks I've been making some video diaries showing off game features. It sure looks like this game is ready to play so why aren't we in Beta already?

Well, we're getting close. Here's what we've been working on recently:
Playing through the first 18 levels of the game that are going to be in the Beta and making sure that they work and are balanced and fun.
Collating the huge set of items that are obtainable in these levels (around 1000!).
Finishing up the final cards that are needed for these items.
Play-testing the multi-player game using this item pool and trying to do some initial balancing so that all the classes and races are all competitive.
Working on how to load test the game so we can handle an influx of real players.
Fixing the worst bugs that would stop you from delivering useful feedback when you do get in.
Creating a figure store where you can buy new skins for your characters.
Implementing starter parties that you can buy to launch into multi-player without playing the single player adventures (if, for some reason, you don't want to).
Setting up "metrics" so that we can gather real data to figure out what parts of the game are broken or require re-balancing.
Drinking lots of coffee.

Whew! Most or all of that stuff is done now, so you can see that we're getting very close.
So, how are we going to run the Beta when we do launch? We'll start small – inviting a few people in every few days or every week so that we can make sure that the game scales properly. We may have to pause that invitation process if we run into scalability issues or serious bugs. Once we're really confident, we'll pull in a lot more people and, eventually, we'll open the Beta up and wait for the hordes to (hopefully) arrive!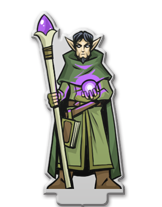 If you are selected by our carefully engineered random Beta algorithm, you'll receive an email with a Beta key that you can use to create an account. Once in, you'll be able to start playing through the 18 levels of the single-player campaign and playing a whole lot of competitive multi-player.
You'll find that there's a great deal of the game still to come – many more levels above 18 and a whole bunch of powerful cards that aren't available yet. You can also look forward to us adding a lot more story stuff – we have some really cool stuff up our sleeves that we haven't put in yet. Yes, 2013 is going to be a great year for Card Hunting!
Until then, happy holidays and we'll see you in game in the new year!