You might recall we showed you the mini-card version of the Maze of the Mind in a dev diary a few weeks ago. It was part of the suite of cards you get when you equip the Puppeteer's Band. This week we'll show you the full version of that card and explain how it works. Here it is: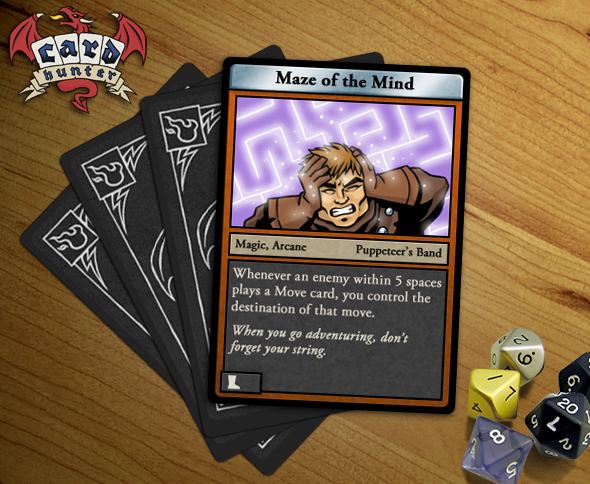 So, the expanded text on that card should be pretty self-explanatory. This is one annoying card. There are you, plotting the perfect maneuver to get your Elf Warrior behind the enemy, you play your sneaky move card and BAM – Maze of the Mind! Now your opponent gets to control the move and I'm pretty sure he's not going to put your Elf in position to stab anyone. Instead he'll probably be facing a wall with his back to the enemy who's about to unleash a barrage of unfair attacks on him.
Yeah, this is one nasty card. It usually does something annoying. Of course, as with most of these kinds of cards, you can play around it if you know it's there by using your worst move card first and moving a character who has another move in hand.
So, Maze of the Mind is another  example of how we use the reaction system to come up with some interestingly different kinds of cards (well, we think so, anyway), not just blocks and armor.
A couple of technicalities to point out about this card. Firstly, the little boot icon in the lower left means this is triggered by play of Move cards. That means, yes, there are other cards that are triggered by movement too. The sharp eyed of you with keen memories will remember that this icon was a star on the mini card we showed before. That's because we keep juggling this iconography. It was a star and now it's a boot. By the time we ship it could be something else entirely. Let's hope not though.
Finally, there's no way to play this card, unlike Bash that we previewed last week. It will just sit in your hand until it gets triggered.
Secondly, note that there is no card symbol in the lower right. This means that you don't get to put this card back in your hand after it triggers. It will only control one enemy move and then it gets discarded. It usually pays its dues though.
I love this card, mainly because it usually annoys the hell out of my opponent. I hope you like it too. Just don't put it in your deck when playing me please.