Hello Cardhunters! I'm Ben Lee, the Art Director on Card Hunter. Since moving back to Sydney from the UK to join Jon in the studio, our work rate has increased substantially. This means I finally get to start polishing up older art in the game.
One such piece of art is the world map. When we first came up with the world map the details of exactly how it would be used were a little hazy. This meant that for a while we weren't precisely sure how it would fit into the look and feel of the game. "Surely a map is a map?" I hear you say. Well, yes, but something we have worked hard to achieve in Card Hunter is the feel of a physical (mainly cardboard) boxed game. This raises frequent questions about what is meant to be a piece of card or paper, and what is game user interface (otherwise known as UI).
Here are the older map and the newer one side by side: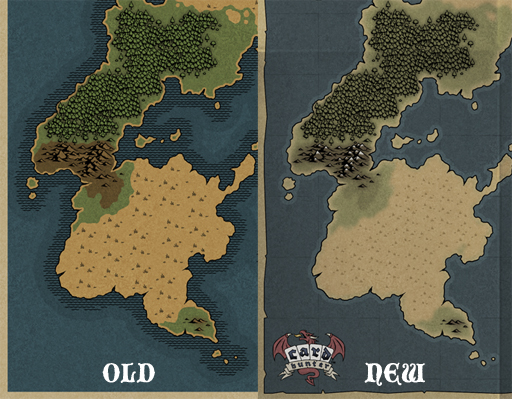 The newer map is now squarely in the "It's made of paper" camp. There are visible fold lines and the colors are less intense.  It looks a little empty, because the map is the background onto which we place our locations and adventures, which are re-positionable by the designers.
The land masses will be stocked with adventure, but there were a few areas of ocean that probably wouldn't be at first. What does this mean? It means something is needed common to any self-respecting olde-world map. Sea monsters drawn in the gaps.
So for your edification and amazement, we present the most terrifying and legendary of the Cardhuntrian ocean beasts to roam the nine seas!
And finally, the most important question. Based upon your own travels, adventures and wisdom.. Which of these would win in a fight?