Card rarities are a big part of any CCG. Here's a quick insight into how they work in Card Hunter.
Previously all our cards had a rarity, but we didn't display it. Now you can see a little icon in the lower right of the card image "C", "U" or "R". I'll let you guess what those mean.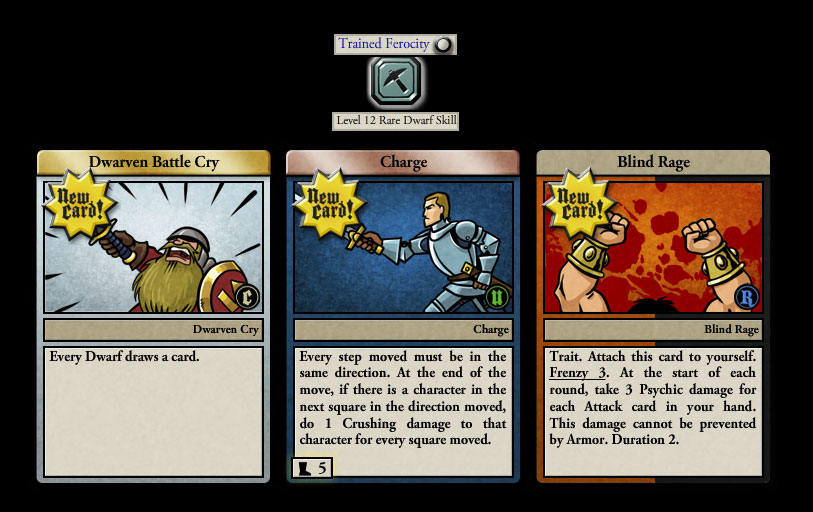 There are two concepts associated with each card that are easy to confuse but importantly different. The first is the card's "quality". That is a rough estimate of the card's power and is indicated by the color of its title bar. So, the gold Dwarven Battle Cry is more powerful than the bronze Charge which is, in turn, more powerful than the plain Blind Rage. Of course, these quality assessments are subjective, and a large part of the fun of deck building is deciding whether or not we got it right. Is Blind Rage actually a good card for your deck? Or maybe Dwarven Battle Cry isn't that great in your Elf/Elf/Dwarf party…
The second concept is the card's "rarity", which we've been discussing. Note that rarity is not the same as quality or power. Rare cards are generally more complex than commons, but they aren't always more powerful. Blind Rage is rare partially because it's a pretty complex card. It marries a powerful effect (Frenzy 3, which adds 3 to all your melee attacks) with a pretty nasty drawback. Dwarven Battle Cry is powerful but simple. The uncommon Charge is somewhere in between.
All these cards come from Trained Ferocity, a rare dwarf skill. Trained Ferocity is rare because it contains a rare card. The calculations for item rarity can be a little more complicated than that, but card rarity is where they start. Basically, an item is at least as rare as the rarest card in its suite. So, you'll never find a common item with Blind Rage in it.
Because you find rare items more rarely (duh), that means that rare cards are also rare. Makes sense, right?
Here's the kicker – because items are combinations of multiple cards, we can actually end up with item rarities greater than those of the cards themselves. For example, the Lost Amulet: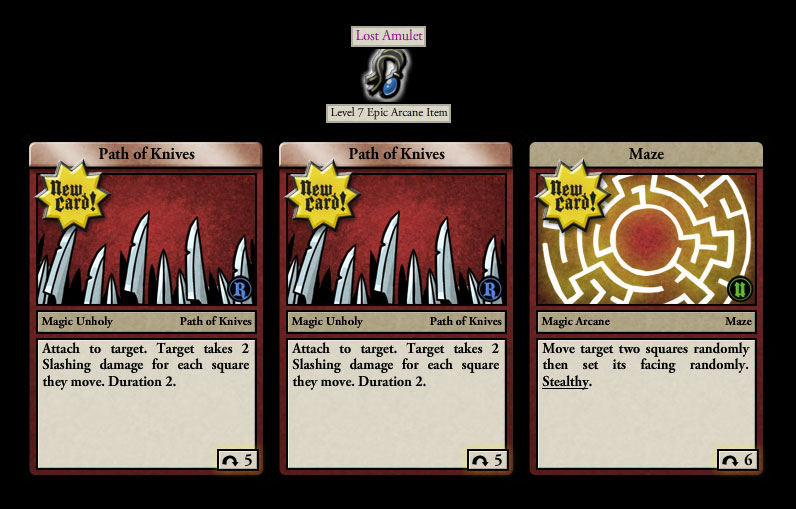 Yeah, that gets you two rare cards in one bundle – so it's an Epic item itself. Path of Knives – ouch!